Alright, you are that guy that likes to do everything yourself, for example, do all the wiring, crimping, inline fuses, etc. If you're anything like that, read this and let me introduce MICTUNING MIC-B1002 LED Light Bar Wiring Harness.
The kit made everything RIDICULOUSLY easy, no matter you are beginner, or experienced person. This wiring harness made the project so easy to do and looks professionally installed.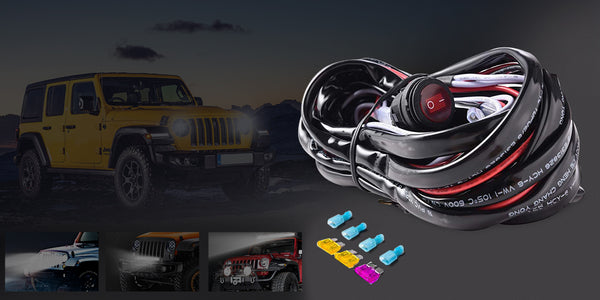 It is able to hook up two different light bars at the same time. For example, if you're using it to hook up fog lights, you can connect both bulbs for either side. Or you can hook up another light bar to other light bar in the front of you truck. This is going to be so convenient and less wires going through engine.
Switch is sturdy and functions very well! The button glows red when it's switched to on, it doesn't have the flickering or buzzing issue like other harnesses. It gives a very nice response when you flip the switch and it doesn't delay like some harnesses that are being sold.
The wire harness came with all the connectors in place and was extremely easy to install. Even the relay was already hooked up. Saves a lot of time and effort, and makes your light installed easily and quickly.
Plenty of length of wires (up to 10ft) and make installing lights on your vehicle a breeze. Wiring is even long enough to run through your firewall and all the way around engine bay without having to add wire length.
Conclusion:
MICTUNING MIC-B1002 LED Light Bar Wiring Harness has everything you need: relay, in-line fuse with spare fuses, male spade crimps for connection to two fog lights, and a weatherproof switch. There is a super bright light in the switch to show you when it's "on". The wiring harnesses made the installation of the lights easy as all the connections were preassembled. It well laid out for fog light/driving light locations and should work for most vehicles.