There's nothing like getting ready to go out of town and the packing that you have to do preparing. So having something that allows you to keep dress shirts and pants free of wrinkles and clean is crucial. BUT, HAVE NO FEAR, this item is a GAME CHANGER ! MICTUNING Car Clothes Hanger Bar is a great tool to transport clothes for a short distance move. This makes your traveling so much easier with your clothes hanging and able to pick what you wanted, not having to stuff your clothes in a suitcase and deal with wrinkles.

So easy to put in the car and hang clothes. This hanger bar can hold your clothes and you don't have to pack them. When traveling for business so it made it really handy to be able to just grab them from the closet, hang them up and go. Great either if your moving or to keep in the car for a person on the go and needs to keep a quick change of clothes and still have them look fresh.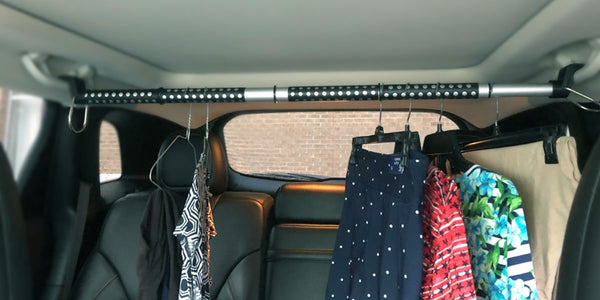 You will like the fact this bar has rubber coating to keep it from sliding around so everything stays put as you are driving. Enable you to organize and not worry about things flying all over the place.
Made of high-quality steel, sturdy and unobtrusive, with strong bearing capacity up to 60lbs. Just the right thickness to not fill the rear seat but heavy duty in holding clothes. You can get a ton of clothes on hangers and it handles the weight without issue.
This Car Clothes Hanger Bar will easily adjust to fit the width of your vehicle. It can be extended from 36 inches to 65 inches. Easy to install, simply attach the clothes hanger securely to the rear seat passenger handles or hooks of your vehicle. A far better choice over the plastic models that may slip off or break easily over time. When not in use, Simply retract the hanger to its original size, and store it conveniently underneath the rear passenger seats.