It is necessary to install trailer tail lights on your trailer, as to maintain visibility to other driver, most importantly, let them know when you're slowing down or changing lanes. It can be challenging to find the right trailer light, as there are all kinds of trailer light brands to choose from. If you are looking for a quick and easy trailer lighting kit offers a quality product at a great price, here it is.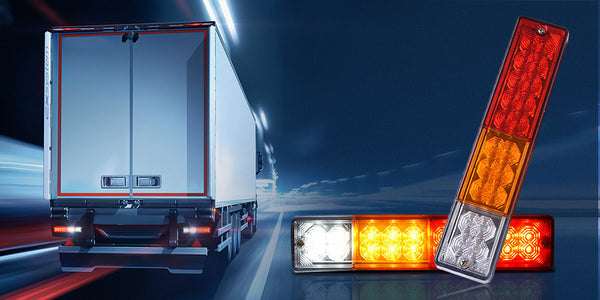 MICTUNING LED Trailer Tail Lights Bar adopted 20pcs high-intensity Leds with clear transmittance PC cover, illuminates the sides and back of your trailer. It also let other drivers to know what you are going to do next especially when you're about to turn or brake, thus reduce traffic accident. It is brighter but less of a power draw than traditional lights.
Trailer tail lights with Red, Amber and White beam, and perform multiple functions, includes rear lamp, running light, brake light, turn signal light, reverse lamp, etc. They are bright enough to catch the attention of those following the trailer.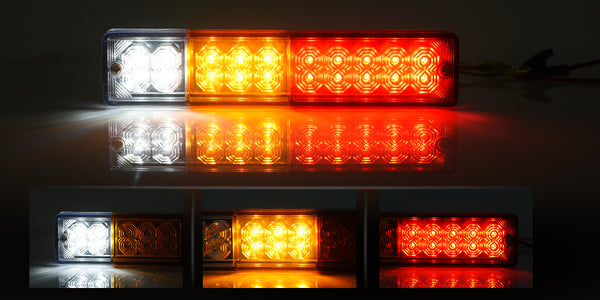 The ease of installation is one of the good aspects of this product. The trailer tail lights come pre-wired for easy installation. The 5 wires are color coded black, red, yellow, white and green. Remember that your black wire is for grounding. Also the red to brake, yellow to turn, white to reverse and green to taillight, the wire connection should be fairly simple to follow.
You don't have to worry about water damage to any of its components because it is IP65 waterproof rating and tightly sealed by a silicone strip. No fear of dust, sand, moisture, rain drops and even harsh weather conditions, it can lasts for many years to come.
Portable compact size, 2 screws surface mounting, they look really good installed on the trailer without taking up much room. Additionally, the MICTUNING trailer tail lights work on DC 10-30v wide voltage range, ideal for Engineering vehicle, Pickup, Trucks, Trailers, UTV/ATV, Caravans, Vans, Boat Trailers, etc.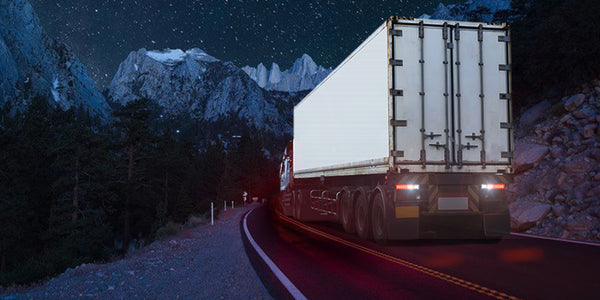 Final Words:
If you are looking for some very bright lights for your trailer, then consider MICTUNING LED Trailer Tail Lights Bar because they had reverse, brake, turn signal, and tail lights all in one. Almost all customers found that trailer tail light is perfectly easy to connect. These lights provide safety for those following the trailer, preventing accidents and injuries to both you and other drivers. These have held up to the elements and show no sign of condensation or leaking. The previous buyers also commented that trailer tail lights do exactly what they need to do at a great price.
We hope by now you have decided MICTUNING is the most suitable trailer tail light bar for your option. If you need any further assistance we are here for you. By the way, have a nice day!