Are you looking for the most reliable and efficient car switch panels on the market? Choosing the desirable rocker switch can be difficult because there are a variety of options from different brands on the market. Luckily, we've got this ready for you. That is, MICTUNING 12V 24V 2 Gang
Aluminum Rocker Switch Panel.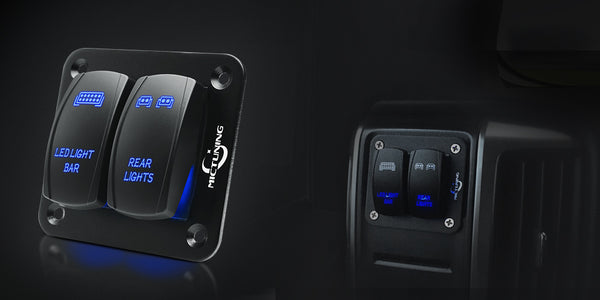 It is 5 Pin SPST (Single Pole Single Throw) on-off switch that works like a seesaw, rated at 20Amp 12V/DC and 10Amp 24V/DC, used to turn on/off the lights easily. It is pre-wired on the back to pass power to both switches, so all you have to do is connect positive and negative, saves a bunch of confusion and wire for rookies.
One of the essential feature is illumination effect. Built-in LED light to emits soft and blue light, penetrating surface cover to illuminates the patterns, so you can see and use switch panel easily in the dark.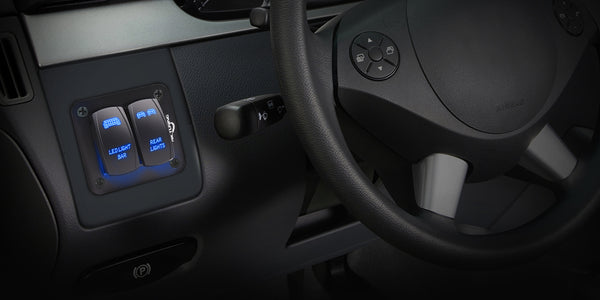 A specialty of this product is that it is a premium aluminum panel. It is more durable to use when compared with other switch panel made with plastic material. Additionally, the surface cover is streamline curved design with laser-etched patterns onto it to ensure long lasting durability.
Another essential feature is waterproofing. It is IP65 waterproof, no need to worry about water when use in boat or ship. Besides this switch panel has multi-protection and it is far more secure. It has over-heat protection, over-current protection, over charge protection and short circuit protection.
Last but not least, MICTUNING 2 gang rocker switch panel can be widely applied to many occasion. Designed for controlling Led Light Bar, Led Work Lights, Fog Lamps, Headlights, Taillights and Auxiliary Lamps, etc. It fits all 12/24V car, motorcycle, SUV, ATV, UTV, boat, marine, ship, yacht and other vehicles.
Features:
Type: SPST ON-OFF Rocker Switch
Built-in LED Light
The Clean and Stylish Appearance
Made of Aluminum Material
IP65 Waterproof
Voltage: DC 12V/20A DC 24V/10A
Conclusion:
MICTUNING 12V 24V 2 Gang Aluminum Rocker Switch Panel has stylish appearance design with laser-etched patterns onto it. It built-in LED light to illuminates the patterns, no more fumble for the switch in the dark anymore. This Switch Panel comes with a pre-wired wiring harness, easy to install and operate, saving you much time.