If you wants to install a light bar on a car or truck and doesn't want to drill holes in your car, buy this - MICTUNING Universal License Plate Mounting Bracket, which is a very nice mounting bracket for any light pod/light-bar addition to your vehicle. For the purpose of providing a mounting platform for additional lighting while looking kinda cool, this License Plate Mounting Bracket will work.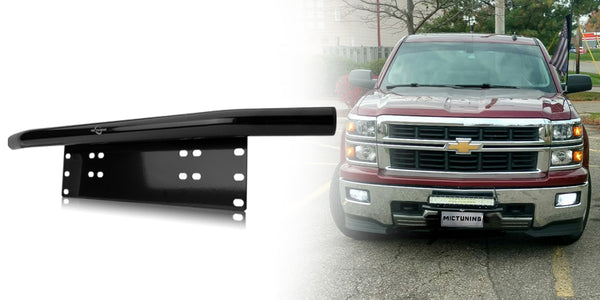 You will love the flexibility that you can mount light bar or light pod on it. There are 2 mounting holes option on top for you to install one light bar or two work light pods. What's more, the Mounting Bracket adding a nice look bull bar guard , which looks pretty cool on your vehicle and offers some protection for your light bar. Great solution for adding a light to front bumper! The light from the light bar is perfectly focused and straight! It keeps your light bar out of the dirt, away from rocks, and is the perfect height for illuminating the road ahead!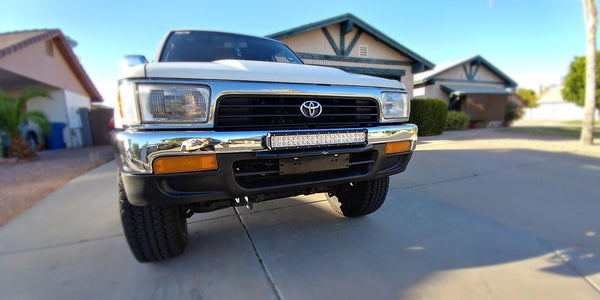 Easy to install, it mounts to your existing license plate holes. No drilling required. It fits perfectly, and provides a stable and secure mount for auxiliary lights, No longer have to worry about it breaking while driving down the highway.
The aluminum alloy bracket is fairly study, well designed, well made, and already powder coated black. It will be strong enough to resist bending from the wind when driving. This bracket is definitely way better than the plastic one on the market.
Final Words:
MICTUNING Universal License Plate Mounting Bracket for easily installing off-road lights. It is more than durable enough for its intended purpose. The holes/slots that are predrilled lined up perfectly with the existing holes in the bumper of your truck, attach the license bracket to the bumper then screw in the license plate. Finally mount led cubes or light bar.
It is sturdy, heavy duty, there is very little to no vibrations while driving! This License Plate Mounting Bracket is an easy solution for those seeking a handy mounting location for fog or driving lights.