We all know that a messy and unorganized car makes people feel very annoyed, and having stuff flying around also distract driving to cause potential safety hazard. You will need to find a way to keep your car organized. The MICTUNING Car Seat Organizer helps to prevent messes in your vehicle. It holds things and keep the dogs in the backseat! We will give you general introduction in this article.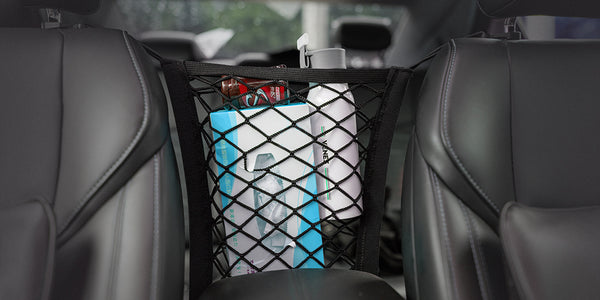 With this product, it keeps things from rolling around the car, no more searching the narrow gaps of your car for a dropped toy. It can hold snacks, drinks, wallet, ipad, lotion, tissues, wipes, brush, electronics, etc, great for road trips or everyday.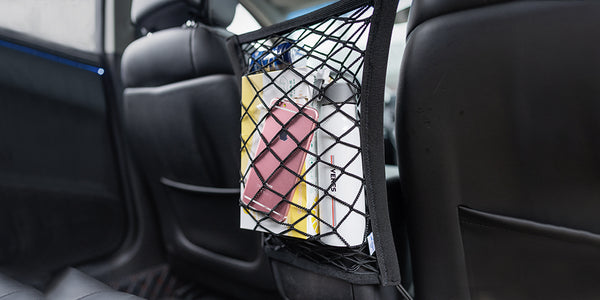 Our car seat organizer keeps things that could have fallen from you lap to between the seats and from keeping on the floor to be stepped on. For example, it stops your purse from falling over to the back of the car. You are able to reach back and grab stuff from the back seat.
Apart from store your stuff in good order, this car set organizer also act as a pet barrier. It keeps your little dog from jumping into the front seat on long car rides! High enough to stop doggie jumpers.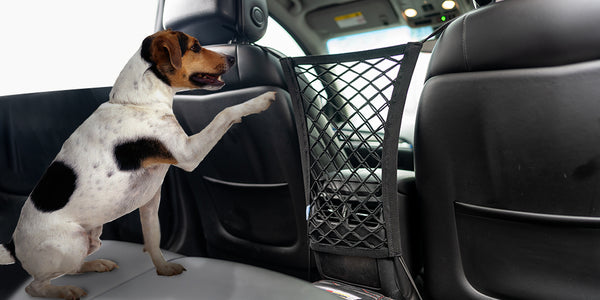 Something else you will love about this product is the ease of installation. Equipped with 4 reliable safety hooks to make it hook up to the headrest pole, installation is piece of a cake.
The material is sturdy and it stretches to accommodate many things. Made of thickened polyester fiber with strong elasticity, it can be stretched to the perfect size based on different space between the driver and co-driver seats of various car models. Suitable for most Jeep, Off road, SUV, UTV and other vehicles with headrest pole.
Conclusion:
MICTUNING Car Seat Organizer is idea for most car owners since it is extremely useful to store tissues boxes, bottles, important papers, anything as long as it can fit. Keeps your purse from falling to the rear passenger area. The net is stretchy and is great to fit things in and it fit your car like a glove. The car seat mesh also serves as a separator between front and rear seats to keep doggies in the back. It prevents kids and pets from crossing over. Quickly installed over the seats and doesn't get in anyone's way.