It is really necessary for off-road drivers to have sufficient lighting in extreme weather conditions. LED rock lights are a great addition that will increase visibility in the dark significantly, it can illuminate the underside of the vehicle to make rough terrain more visible, and improve your driving experience.
There are many types of rock lights on the market, you may find it hard to choose the right one for you. But don't worry, MICTUNING Q1 LED rock light kit has everything you need to get extra illumination with value of money, which can ensure safe driving on the road and also give a cool look to your vehicle. With this article to introduce Q1 led rock lights kit, so you can be confident in your purchase.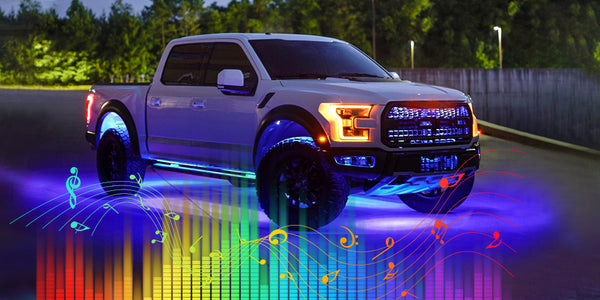 Brightness
Brightness is one of important factor when purchasing the rock lights for trucks. MICTUNING Q1 led rock lights give you more lighting under the car and project 150°Ultra-Wide-Angle lighting. They provide a high level of visibility that exposes every rock and debris on the road, thus makes off-road driving in dark areas easier and safer.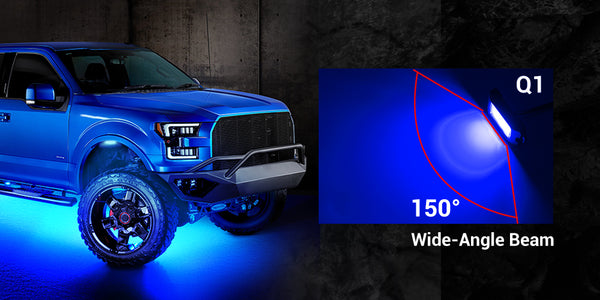 Colors
These LED rock lights come in a choice of RGB and RGBW, and users can select between four or eight pods. They both have 16 Million Colors to decorate you car. Huge amount of colors not only give your vehicle a modern look but also makes your journey more interesting. RGB rock light use a 3-in-1 LED that made up of red, green and blue. RGBW use a 4-in-1 LED including red, green, blue and white. It can produce pure white due to built-in extra white chip. You can choose RGB or RGBW according to your preferences and requirements.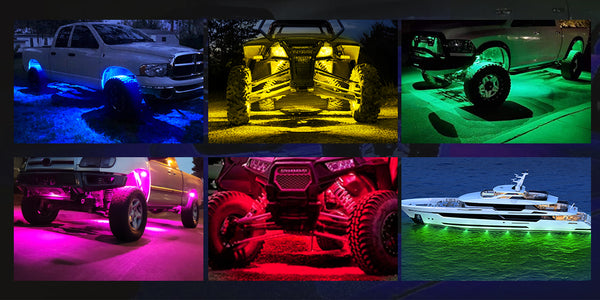 Control
The two control methods give you more convenience - remote control or APP control. They allow you to choose different colors and adjust the lighting effect to suit your personal preferences. In the music mode, the light sync with the rhythm of the music, including slow and relaxing melodies and dance music.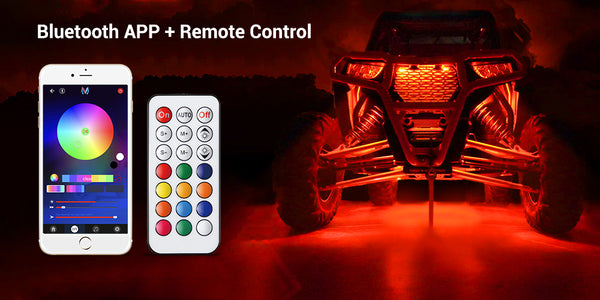 Durability
The lights made of aircraft aluminum housing, not only can dissipate heat fast, but also durable enough for long service time. In addition, it is IP68 waterproof, shockproof, and dust proof, can be used in rainy, snowy, underwater, or even harsher environments. You can drive your car on rough terrain in any weather.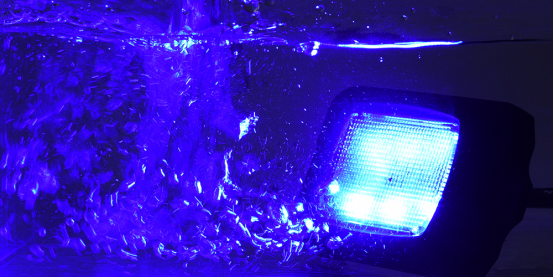 Versatility
Last but not least, Q1 rock light kit is also very versatile as it can be used as reverse light, bottom light, interior light, 0ff-roading light, reverse light, dome light, chassis light, ambient light, yacht light, auxiliary lighting, etc. Mounting hardware is included as well, which helps make installation a breeze.
Final Thought
All in all, Q1 LED rock light kit is an excellent choice if you're looking for powerful off-road lighting. They give you maximum illumination and have a wide-angle to light up an entire area, not to mention that your car will look amazing. The lights are controlled via Bluetooth APP/Control Box and are suitable for a variety of vehicles. These can be mounted absolutely anywhere, and provide great value and versatility for your money.