As there are tons of rock light options out there, perhaps you are looking for rock lights that make your vehicle stand out, but you don't know how to choose the right ones for you. Fear not, our MICTUNING rock light can help out.
With MICTUNING rock lights, they can help to keep you safe when driving in off-road and challenging conditions, but also enhance the individuality of your car. LED Rock lights offer many benefits for off-road drivers, including the following. Let's check them out together.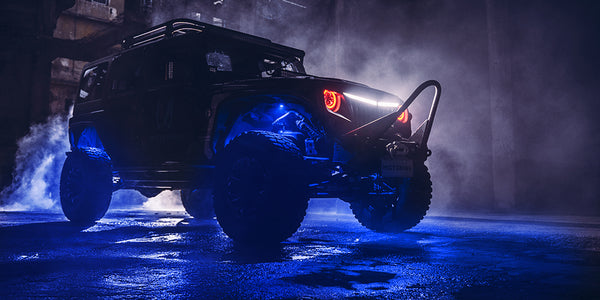 Safety  
There is no better way of taking your off-roading experience to the next level than with MICTUNING rock light kit. Installing rock lights will provide enough brightness to make rough terrain more visible, so you can steer away from obstacles and debris. They are incredibly bright for better driving experience, not only let you see but allow you to be seen, ensure your driving safety in the dark.
Fun
Secondly, you can also personalize the lights by downloading the "mictuning" app to your phone to enhance your driving fun. You can choose between multiple lighting modes, change speed and brightness, and choose your favorite color combination. Also, it has the 'Music Mode' that can be turned on or off from the app. Imagine how happy and crazy you are when rock up with music.
Aesthetic
The pure white light and pure colors are a definite head-turner. With up to 16 millions different colors, they will enhance your vehicle look to unimaginable levels. Rock lights come with multiple colors and modes, allowing you to choose from many options and decorate your vehicle, thus make them stand out among the others. 
Durability
Apart from the aesthetics, the rock lights are durable. Built with a solid and impact-resistant aluminum housing for durability and better heat dissipation, lasts longer for up to 50000 hours. They are waterproof, dustproof, and shockproof, meaning that you can use them in any harsh weather conditions.
Versatility
Rock lights don't only have to be underside lighting of your vehicle. You also have the choice of using them as interior lights, reverse lights, truck bed lights, dome lights, winch lights, chassis lights, deck lights, yacht lights, household lighting and more you can think of.
You can also installing them in the trunk of your car, golf carts, agricultural machinery, ATVs, boats, and other spaces that might need extra light.
Conclusion
So as you can see, investing MICTUNING rock lights holds several benefits. Overall, these benefits make them a great addition to your off road adventures.
We can all agree that rock lights not only light up the road but also add a stunning custom look to your vehicle. Our LED rock lights are the preferred choice for owners, thanks to their wide range of customization options and endless fun they offer when off-road driving. 
You can visit MICTUNING products page to shop our LED rock lights for trucks. We believe that we have just what you are looking for.